About
Air Quality Asbestos Confined Space Conveyor Safety Documentation, Record Keeping and Statistics Electrical Safety Elevating Work Platforms Emergency Eyewash and Shower Emergency Procedures and Planning Excavations and Trenches Fall Protection First Aid Forklift Platforms Formwork and Shoring Guardrails Harassment Hazard Identification System Hazardous Substances / Toxic Substances Heat and Cold Stress Hoists for Material Handling Impairment - Drugs and Alcohol Industrial Lift Trucks Joint Health and Safety Committees - Fixed Workplace Joint Health and Safety Committees - Project Sites Laboratory Safety Ladders Lockout Logging and Silviculture Manual Material Handling Mobile Cranes New Employee Orientation Noise Openings Personal Protective Equipment - Head, Foot, Skin Pits and Quarries Posting Requirements Powder Actuated Tools Power Tools Powered Mobile Equipment Propane (Compressed) Radon Reporting and Notifications Respiratory Protection Roofing Safeguards Safety Policy Sanitation and Accommodations Scaffolding Supervision Three Rights Traffic Control Tree Removal Trusses Vehicles Vibration Violence Water Safety Welding WHMIS Working Alone Workplace Incident Investigation Workplace Inspections
Français
Emergency Eyewash and Shower
Emergency showers and eyewash stations provide on-the-spot decontamination. They allow workers to flush away hazardous substances that can cause injury.
Employers must install emergency eyewash or shower stations when there is a risk that a worker's eyes or skin could come in contact with hazardous substances that complies with ANSI standard ANSI Z358.1-2009 "American National Standard for Emergency Eyewash and Shower Equipment" (or a standard that offers equivalent or better protection). Copies of either edition of the standard can be purchased at the ANSI webstore.
There are different types of emergency eyewash and safety showers. Some are stand-alone systems of emergency eyewash and shower stations, some are combination systems, most are hooked up to plumbing and some are portable units that can be transported to isolated locations where installing a plumbed in unit is impractical. Portable units are beneficial on construction and other isolated work sites. It's important that the water be kept at a comfortable temperature. The ANSI standard provides guidance on this.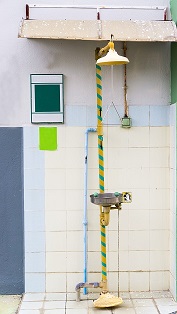 Eyewash Shower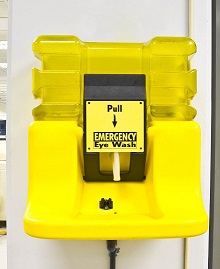 Emergency Eyewash Station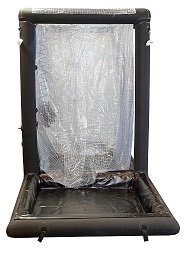 Inflatable Decontamination Shower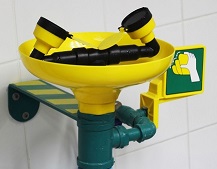 Shower Eyes
The sooner the flushing starts, the better the chances are of eye and skin recovery. The flushing should start as soon as possible but at least within 10 seconds of the chemical splash to minimize tissue damage. If the injured worker is taken directly to the hospital for first aid without flushing at the worksite, the chemical may have time to cause permanent eye or skin damage.
As an employer you must:
Install emergency showers and eyewash according to the ANSI standard.
Ensure the eyewash station and emergency showers are well identified and provide signage.
Locate the emergency shower or eyewash according to the workspace, but be sure the equipment is no more than a 10 second reach from the workers.
Keep the pathway to the emergency shower and eyewash clear of obstructions. The area should be kept neat and easily accessible.
Store loose clothing (such as a hospital gown) and/or blankets near the emergency shower.
Leave dust covers supplied with the eyewash in place. They prevent dust and debris from falling inside the eyewash heads and becoming projectiles when the unit is turned on.
Not use a residential shower stall as an emergency shower. Residential shower stalls do not meet the ANSI standard for adequate flow of flushing fluid.
Make sure all workers are trained to use the emergency shower and eyewash stations. For example, when rinsing the eyes, to effectively remove the hazardous substance, it's important to keep the eye lids open as follows: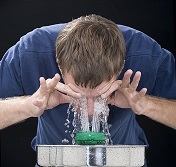 Eye / Face Wash
As an employer you should also ensure the following best practices:
The installation of a modesty curtain will protect the privacy of the user and permit disrobing while the shower unit is in operation. In an emergency, it is imperative that contaminated clothing be removed as quickly as possible. However, employees may be reluctant to remove their clothing in the presence of co-workers without a modesty curtain.

Modesty Curtain

One person in the work area should be designated responsible for inspecting and operating (activating) the emergency shower, eyewash station, combination units, and drench hoses weekly. A weekly activation (and before performing high risk tasks) will help ensure that there is flushing fluid available as well as clear the supply line of sediments and minimize microbial contamination caused by 'still' or sitting water. This person should keep a signed, dated record. The ANSI standard also recommends a complete annual inspection.

Inspection
"hazardous substance" means a substance that may, because of its harmful nature, cause injury or damage to the health or safety of a person exposed to it.
General Regulation - Occupational Health and Safety Act
N.B. Reg. 91-191
Part II SANITATION AND ACCOMMODATION
Section 11 Emergency Eyewash and Shower
11. (1) Where an employee's skin or eyes may be exposed to contamination from materials at a place of employment, an employer shall provide emergency showers or eyewash fountains in the area where the contamination may occur.
(2) An employer shall ensure that an emergency shower or eyewash fountain provided under subsection (1) complies with the requirements of ANSI standard ANSI Z358.1-1990, "American National Standard for Emergency Eyewash and Shower Equipment".
[N.B. Reg. 2001-33, ss. 3, 4]